Why Choose Academy Roofing
At Academy Roofing, we put people first, from our customers to our employees. We know that caring for our team means our team will care for you.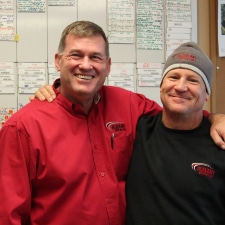 40+ Years Serving Homeowners, Business Owners & Contractors.
Our Services
We are a full-service roofing company in Aurora, Colorado providing our customers with superior roof and gutter systems through the use of experienced salespeople, skilled workers, professional project management, and fair business practices. Whether you need residential hail damage repair, commercial roofing, or gutter maintenance, we are the top roofing company in the Denver area.
Our goal is simple. We want to provide our customers with an exceptional experience from the start of their project to the finish. We accomplish this goal by hiring individuals who fit into our culture. We train them extensively in all aspects of roofing and we encourage their personal development.
We stand behind our work, no matter what. Our relationships with our customers and our employees are incredibly important to us.
---
Very happy with our experience. All of the staff that we interacted with were very professional, courteous, and efficient. The quality between this roof and my last is noticeable. I will definitely use Academy Roofing for all of my roofing and gutter needs in the future, and I would be quick to recommend them!!! Thank you, Academy Roofing, for taking such good care of us!
Danielle Waagmeester- Denver, CO
I needed more venting on my roof to allow sufficient air flow for an attic fan. I had heard good things about Academy Roofing. All positive comments were indeed well deserved. They did a beautiful job! Communication was excellent, the were prompt, efficient, professional, and very nice. They will be my go to roofers for any roofing needs.
Gail Hageman- Denver, CO
Academy Roofing was friendly and professional from beginning to end. My home was going up for sale and the new roof had been approved. Jim Chambers worked with me to get the install done in August as we did not want to install during peak hail season. The installation crew was on time and cleaned up their work each day. Five stars from me, pleasure to deal with a great company.
Randy McKenna- Aurora,CO

We Invest in Our Employees so they Can Take Better Care of You
We know that by committing to continuous training, our employees are equipped to exceed our client's expectations.
A Culture of Integrity Reaching Far Beyond the Jobsite
Our culture of integrity means our team will do the right thing even when no one is looking.
We Do the Difficult Jobs and We Do them Exceptionally Well
We welcome the challenge of complex and difficult jobs, which differentiates us from our competitors.
Let's Start Talking
Our team is available to answer your questions. Please reach out about our products or services, so we can get to know you and what you need.